Peak Fest
The annual Peak Fest that celebrates the "Peak of Good Living" is held on the first Saturday in May each year. This festival has grown from a small community day in a school parking lot to an event which draws hundreds of vendors and over 22,000 people to the streets of downtown Apex. Every year, the Apex Festival Commission plans a larger and more exciting day.
Children enjoy the KidsZone area with rides and games, and artists and crafters provide plenty of shopping opportunities. Festival food like cotton candy, hoagies, and ice cream are sure to please.  Local talent and family entertainment provide dance, song and comedy on the stages. Festival day begins with a pancake breakfast prepared and served by the Apex Rotary Club in the historic Salem Street Fire Station. For more information, visit apexpeakfest.com.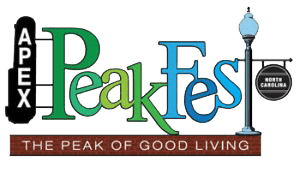 Annual Apex Fourth of July Celebration
Remember bike parades with everything decorated in red, white and blue and lots of games and water fun? Come to Apex on July 4th and bring your family and friends because we close the downtown street for just those events. Water balloons, chalk talk, a cakewalk and fishing pond, and even hula-hoop, limbo and bubble blowing contests delight young and not-so-young alike. Food concessions, clowns, and special entertainment provide hours of enjoyment for the entire family.
The highlight of the day is the children's Parade of Wheels led by Uncle Sam. Hundreds of bikes, trikes, scooters, and even skaters decorated in red, white and blue parade down Salem Street foer the event. For information call the Apex Parks, Recreation and Cultural Resources at 919-249-3402 or visit apexnc.org.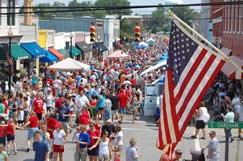 Christmas on Salem Street
The Apex Christmas Parade, hosted by the Apex Rotary Club, takes place on Salem Street in early December for a once a year event that has been the highlight of the Christmas season for more than 50 years. Check the Apex Rotary club website for details.
The Apex Christmas Parade is a town favorite and brings out an estimated 15,000 people who line the street with stadium chairs and blankets as early as the night before the event.  The parade begins at 5:00pm with a line up of  more than 100 floats. Commercial floats, homemade floats, Apex High homecoming King and Queen, Smokey the Bear, classic cars and so much more will also be featured this year along with a special appearance from Santa.
The Apex Rotary Club's motto is "Service Above Self" and invites all parade attendees to embrace the Christmas season by bringing along an item for Western Wake Crisis Ministry.
With all the activity and Christmas spirit, the Apex Rotary club is hoping that residents of Apex who attend the parade will be in the mood to spread Christmas joy.
For additional information about the Apex Christmas parade, or to register a float to be in the Christmas Parade, visit Apex Rotary Club.