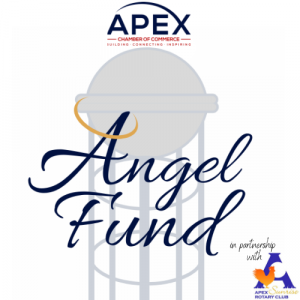 The Apex Chamber of Commerce in partnership with the Apex Sunrise Rotary Club is proud to introduce the Angel Fund.
Introduction
The Apex Chamber of Commerce will provide targeted grants of up to $3,500 to small businesses in the Town of Apex. These grants may be used for payroll, rent or other critical operating expenses.
Thanks to a generous group of Apex-based individuals and corporations, the Fund hopes to raise in excess of $200,000. All donations are tax-deductible.
Grant Timeline
The grant funding opens Thursday, May 14, 2020. The grant applications will begin to be accepted on Monday, May 25, 2020. Grants will be announced and awarded during the week of June 15, 2020.
Grant Application will go live at 9:00 AM on May 25, 2020. 
Committee
The Angel Fund Committee consists of seven people who will review grant applications and make decisions regarding grant approval. These individuals represent Apex in various ways, including members of the Apex Chamber of Commerce, small business owners and community advocates.
Grant Applicant Requirements
Be an independently-owned and operated company (this includes registered nonprofits).
Employ fewer than 20 people on a full-time basis.
Manage your business within the Town of Apex.
We ask that in a year from now, grant recipients consider "paying it forward" by contributing to this Fund in the event of future disasters. This is a request, not a requirement. 
*This fund has been generated in partnership with the Apex Sunrise Rotary Club as a registered 501(c)(3). There are no overhead costs associated with this fund and all proceeds will be distributed directly back into the community.